Wenduine brengt altijd rust in mijn hoofd, mijn vol hoofd waait daar vaak letterlijk leeg. Ik was zelfs zo zen dat drie kwartier zoeken naar een parkeerplaats mij niet kon ambeteren. De zee is mijn rustplek. Altijd de zee.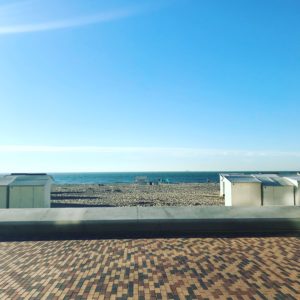 Het was avondmarkt op de dijk, dus we gingen uiteraard een kijkje nemen. Na de verkenningsronde wilden onze jongens twee dingen: eendjes vissen en snoep. Het is vakantie, het zijn _meestal_ heerlijke kinderen, we hebben allemaal ons deel gehad…We hadden perfect kunnen toegeven aan hun wensen. Het was zelfs niet decadent overdreven geweest, ze hadden het verdiend. (We hadden eigenlijk ook zelf zin in snoep, maar dat mag je natuurlijk nooit aan je kinderen laten merken. Dat is basiskennis)
We besloten toch het verantwoorde ouderschapsding te doen: ze kregen een budget. Dat betekende drie opties: 7 eendjes vangen én een klein zakje snoep OF 16 eendjes vangen zonder snoep OF een grote zak snoep. Basiel koos voluit voor de eendjes, Felix ging voor half/half.
Aan de keuze waren uiteraard consequenties verbonden. Basiel mocht kiezen van een hogere rij (zo werkt dat dus met die eendjes. Ge betaalt meer, ge moogt een rij hoger met de brolcadeautjes!), Felix mocht een klein cadeautje kiezen én een zakje snoep vullen.
Tien seconden later beslisten ze spontaan om zowel de gewonnen cadeautjes als het snoep volledig te delen. Dat bedisselden ze samen op een vrijdagavond op de dijk van Wenduine.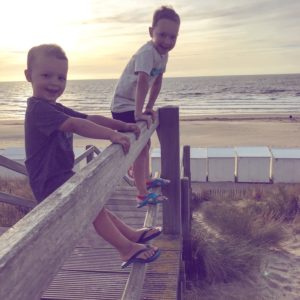 Ze hielden woord en maakten geen moment ruzie. De avond verliep heerlijk. Ze speelden met hun speelgoed en propten zich gecontroleerd vol met suiker.
Het was heel erg warm die avond. Niet in het minst in mijn moederhart.